This book tops my list for most bizarre read of the year. Or maybe even of the last few years.
172 HOURS ON THE MOON
by Johan Harstad (Little, Brown, April 17, 2012)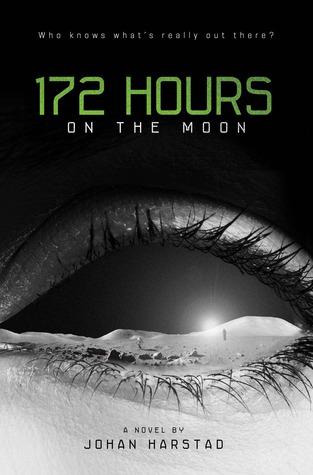 Why bizarre? Let's see...
1) Yes, it's a YA book, but it is so different than anything else in the YA market right now. There were multiple points-of-view (including an adult POV), and they were all in third person. Which, based on the totally creepy factor of the novel, set up the story perfectly.
2) The creepy factor...
172 HOURS ON THE MOON
was basically a horror story. About some kids who get sent to the moon for a big publicity thing. And of course everything that can go wrong does because there is something hunting them on the moon.
3) And people die. Lots of people. Like die and don't come back to life. I actually adore how the book was willing to take this chance and do this.
4) And though the ending totally threw me (like came out of nowhere!), it fit perfectly with the novel. I'm not sure what other ending would have actually worked quite as well.
172 HOURS ON THE MOON is the kind of book you finish reading and *immediately* want to discuss with your friends. It would make the perfect book club read (wait - we can read this for the boys' book club I run!). With the various points-of-view, it's great for boys and girls, 6th grade and up. And given its strong sci-fi element, it's equally appealing to adults. Definitely recommended if you want to take a break from the standard YA novel and read something totally different!
Source of book: From publisher at trade show
From Amazon:
It's been decades since anyone set foot on the moon. Now three ordinary teenagers, the winners of NASA's unprecedented, worldwide lottery, are about to become the first young people in space--and change their lives forever.
Mia, from Norway, hopes this will be her punk band's ticket to fame and fortune.
Midori believes it's her way out of her restrained life in Japan.
Antoine, from France, just wants to get as far away from his ex-girlfriend as possible.
It's the opportunity of a lifetime, but little do the teenagers know that something sinister is waiting for them on the desolate surface of the moon. And in the black vacuum of space... no one is coming to save them.
In this chilling adventure set in the most brutal landscape known to man, highly acclaimed Norwegian novelist Johan Harstad creates a vivid and frightening world of possibilities we can only hope never come true.