Hey, Everyone! Happy Wednesday.
I am so excited to announce that I am going to be a participating author in the Austin Teen Book Fest! Woot woot!
In case you haven't heard of the
Austin Teen Book Festival
, it is amazing, and you find out all the details
here
. So far, besides me, the keynotes have been announced and are Maggie Stiefvater, Holly Black, Sarah Dessen, and Rob Thomas. Right? I know. I am totally going to fangirl.
Quick festival details so you can mark it on your calendar NOW!
WHEN: Saturday, September 28, 2013
WHERE: Austin Convention Center (different than last year)
WHAT: A day filled with author and book awesomeness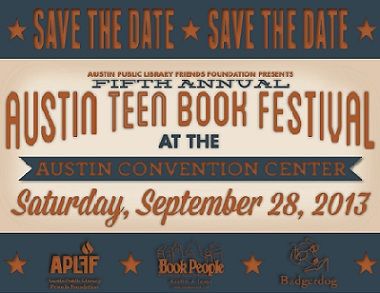 There's an exclusive interview
up with me today on the book festival blog in which I talk about how many Star Trek shirts I own, what my favorite myth is, and the song that best encompasses SOLSTICE!
Thank you for all your support, and I can't wait to see you there!
* please forgive my severe overuse of the exclamation point.